Confronting the Carceral State in Planning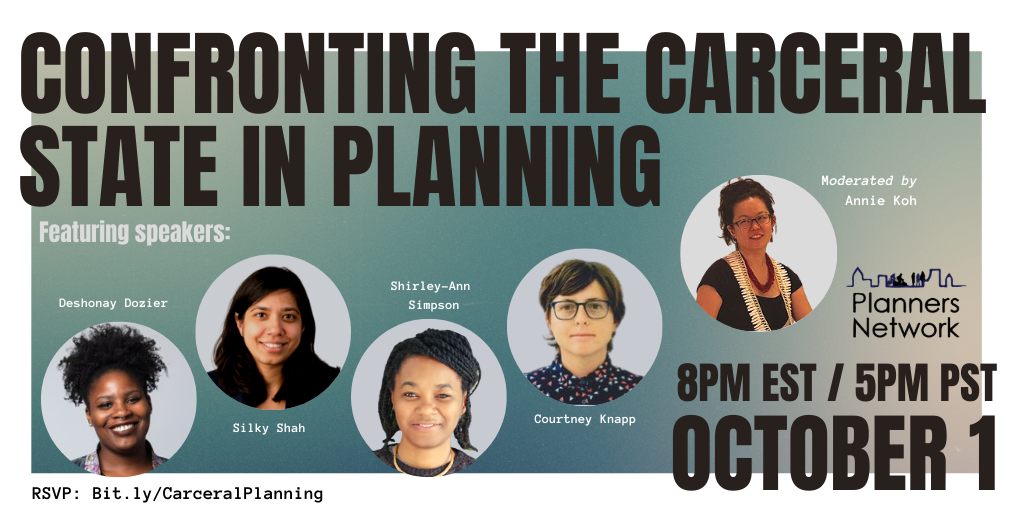 Hosted by Planners Network, this panel discussion  
unpacked how planning is implicated in current forms of carceral control — prisons and migrant detention centers — and explore the prospects for decarceration and abolition.
What is Planners Network?
Planners Network is an association of professionals, activists, academics, and students involved in physical, social, economic, and environmental planning in urban and rural areas, who promote fundamental change in our political and economic systems.

Check out our online magazine,&nbsp Progressive City: Radical Alternatives. You can also follow along on Facebook and Twitter.
About Planners Network
Planners Network is a 501 (3) (c) non-profit organization.
See back issues of the former print magazine (including the last issue: Spring 2016: Fighting Displacement in Barcelona) in the News & Knowledge section.
See the latest E-Newsletter from September 2020.
See the latest Individual Membership Directory from December 2019.