Dear PNers:
It is with profound sorrow that we announce the passing of Planners Network founder, Chester Hartman – urban planner, author, academic and foremost, an activist.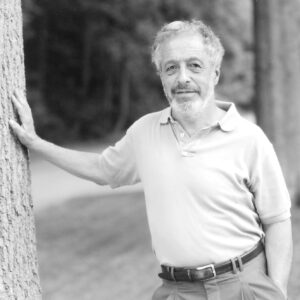 Chester was a long-time fighter for social justice – and would lose his position at Harvard for the radical positions he held. He founded Planners Network in 1975 to build a community of planners that sought to center those who were most marginalized and were harmed by mainstream planning, and to exchange ideas and practice for (re)orienting planning in the service of such people.  He was Executive Director and Research Director of our sister organization, Poverty & Race Research Action Council (PRRAC).
Our sincerest condolences to family and friends on this monumental loss.
More to follow.
-PN Enews team, on behalf of the PN Steering Committee and the Progressive City: Radical Alternatives online magazine.
---
The BIPOC Planning Collective, an affiliate of Planners Network, is hosting an Infrastructure and Equity workshop (in-person) on Thursday, April 27, 3 pm-6 pm EST, with open networking (and tapas and beverages) 6 pm-7 pm EST.  The workshop will be held at the New School for Social Research (66 West 12th Street, Room 407, New York City). Panel guests include: Adam Paul Susaneck, founder of the Segregation by Design project; Nilka Martell, founder and director of the community-based non-profit organization Loving the Bronx; Alex Levine, co-creator of Bronx One Policy Group; Desiree Powell, founder of Doing Right by the Streets (DRBTS); and Collective Co-convenors Byron A. Nicholas, PP, AICP; Sean I. Robin, MCP; and Mia Charlene White, MIA, PhD.  You can register and find more info here: https://event.newschool.edu/inpersonbipocplannerscollectiv
Thanks to those who attended our recent social hour….stay tuned for the next one.
Interested in learning about the struggle to establish a community land trust in New York City? Check out our next PN social hour on April 20, 8 pm EST/ 5 pm PST
This social hour will feature a discussion, with the filmmakers Kelly Anderson, Ryan Joseph and Kathryn Barnier and the current Executive Director of Cooper Square Mutual Housing Association Dave Powell, about their recently released film Rabble Rousers. The film documents how community organizer Frances Goldin & her working-class neighbours fought against Robert Moses, the real estate industry and 5 mayors to create what would become the Cooper Square Community Land Trust. The discussion will be hosted by PNers Eve Baron and Samuel Stein.
Register in advance here: https://pratt.zoom.us/meeting/register/tJUtcO-rrjMoE9yBUb53k9-qOBoCmOd3__lc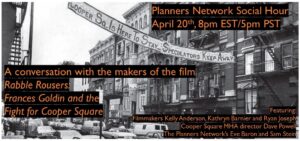 Thanks to those who attended our recent social hour….stay tuned for the next one.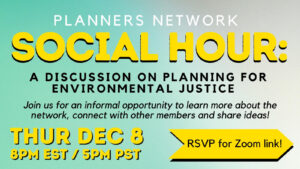 Join us this social hour for an informal discussion with the authors of two short pieces from Progressive City's Planning for Environmental Justice series looking at the intersection of climate change, planning, labour justice, and transport informality.  You can read the articles here and here.  The social hour will be hosted by PN Steering Committee member Efadul Huq.
Author bios:
Nidhi Subramanyam is an Assistant Professor in the Department of Geography and Planning at the University of Toronto. Her research investigates how planning, policies, and governance intersect with and enhance water security and adaptive capacities for socially marginalized communities in rapidly urbanizing regions.
Will Boose, PhD Student (Cultural Anthropology), Emory University is conducting research with mototaxistas (motorcycle taxi drivers) in Lima and Iquitos, Perú, with questions focusing on mototaxistas' labor and the governance of their profession. These inquiries also lead him to critically analyze broader ideologies of urban "modernity" and "(in)formality." Finally, Will serves as the Digital Director for an Iquitos-based poetry collective (revistaamazonicasentidos.com).
Benjamin de la Peña is the chair of the Global Partnership for Informal Transportation, the CEO of the Shared-Use Mobility Center, and writes Makeshift Mobility, a newsletter on innovations in informal transportation.
Also, check out the past articles from the series by Emma Brice, Ian Van der Merwe, Jenn Hendricks, Penn Loh and Neenah Estrella-Luna.
Thanks to all those who were able to join the event!  If you missed it, you can watch it on youtube here.


Toronto has seen the remarkable growth of community land trusts (CLTs) in the last 10 years. These CLTs have been established as a community-led alternative to address issues of eviction, displacement, structural racism and speculation. Now, they have come to embody the second generation of the Canadian CLT movement. Please join this panel discussion to learn how Toronto's CLTs are pursuing transformative changes built on the principles of housing justice, racial equity and economic democracy.
What is Planners Network?
Planners Network is a coordinated network of individual members and of chapters based in cities, regions, and campuses around North America, also known as Turtle Island, and beyond. We publish the online magazine Progressive City, distribute a monthly newsletter, participate in and lead advocacy and organizing efforts, host public events, and gather for conferences.
The Planners Network Steering Committee developed a new statement of principles in November, 2021. View the statement here.

Check out our online magazine, Progressive City: Radical Alternatives. You can also follow along on Facebook and Twitter.
About Planners Network
Planners Network is a 501 (3) (c) non-profit organization.