Housing Justice, Racial Equity, and Economic Democracy (2022)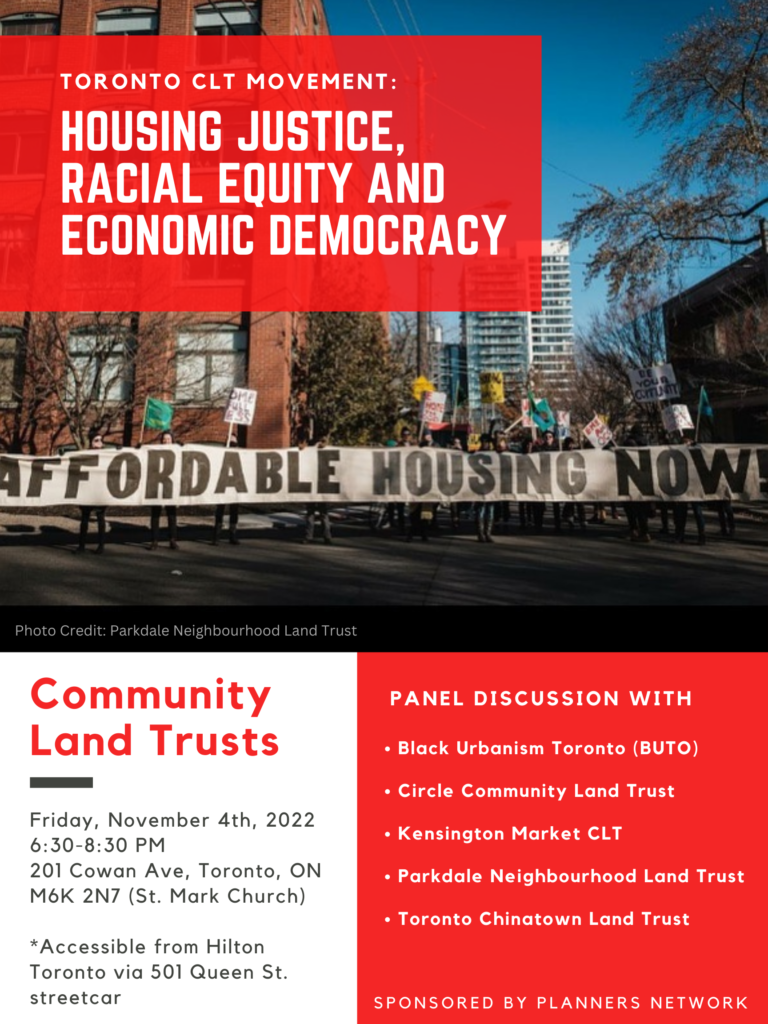 Toronto has seen the remarkable growth of community land trusts (CLTs) in the last 10 years. These CLTs have been established as a community-led alternative to address issues of eviction, displacement, structural racism and speculation. Now, they have come to embody the second generation of the Canadian CLT movement. This panel discussion explored Toronto's CLTs.
Partnerships for Regional Equity: Planners Network Forum (2012)
Saturday, May 19, 2012, Ithaca, New York
A regional all-day conference hosted by Planners Network at Cornell University. This event included panels and community workshops about the power of partnerships, coalitions, and networks to promote equity not just within a city, but within a diverse region. The following day was filled with tours and workshops featuring nonprofits and community campaigns in Tompkins County.
Topics: Food & Farm, Housing & Land Trusts, Preservation & Gentrification, Labor & Workforce Development, Hydrofracking, Environment
Planners Network Activities at the 2012 American Planning Association Meeting (2012)
Saturday, April 14, 2012, at 3:00 pm
A People's Planning Tour of  MacArthur Park
Tour meet-up spot: Mama's Hot Tamales, 2122 W. Seventh St., Los Angeles, CA 90057
From LA Convention Center: Leave Mobile Workshop departure area at 2:30 pm
RSVP here:  http://bit.ly/ze938U
Located just east of Koreatown and just north of the largely Latino and Central-American Pico Union neighborhood, MacArthur Park sits at the crossroads of countless racial, ethnic, and linguistic communities. Although it is historically associated with gang violence and, more recently, with clashes between police and demonstrators, the park has become an incubator for some of LA's most innovative and successful social justice initiatives. The tour will highlight efforts by residents, labor, and community groups around MacArthur Park to support immigrant entrepreneurship, improve working conditions for low-wage workers, advance public safety for youth and families, create equitable transit-oriented development, and more. After the tour, we will head to La Cita Bar in Downtown LA for happy hour. The UCLA Planners Network chapter and UCLA Urban Spelunkers are hosting this tour.
Planners Network Dinner and Panel
 Insurgent/Advocacy Planning – Los Angeles and Beyond
When: Sunday, April 15, 2012, at 6 pm.

Where: El Cholo Restaurant, 1037 S. Flower Street. This famous Mexican restaurant is at the intersection of 11th and Flower, several blocks north of the APA meeting.
Cost: The dinner is a no-fee event, and those attending can order from the El Cholo menu; however, the restaurant requires we pay with one check.
Parking:  If you are driving, there is inexpensive parking on Hope Street, one block east.  1028 Hope Street charges $5.  Two lots between 11th and 12th are slightly cheaper.
Program: Introductory remarks by Marie Kennedy, co-editor of PN's journal, Progressive Planning, and report by the PN Chapter at UCLA. Followed by panel with several local activists engaged in major planning disputes determining the shape and character of Los Angeles and many other US cities for decades to come:
1) Sandra McNeill, Trust South LA, on community opposition to the nearby USC master plan and specific plan.
2) Doug Haines, East Hollywood Neighborhood Council, on the campaign to stop the high density/low amenity Hollywood Community Plan Update.
3) Jim O'Sullivan, Fix-the-City, a party to law suits against the City of Los Angeles for failing to maintain and monitor its legally required General Plan.
RSVP/Contact: Dick Platkin, dick.platkin@gmail.com or 213-308-6354, to establish a head count for the restaurant, give directions, and answer questions.: Sunday, April 15, 2012, at 6 pm.
Young Planners Network Annual Conference (2010)
PLANet Youth 2040: Look to the Future, Chicago, Illinois; June 10 – 13, 2010
PLANet Youth 2009: Building Bridges to a Sustainable Future, San Francisco Bay Area, June 4-7, 2009.
Planners Network UK (PNUK) Annual Conference (2007)
2007 PNUK Conference, What's Left of British Planning? Agendas for Progressive Planning in the UK, took place July 17, 2008 at the University of Sheffield. More information available at the PNUK website.