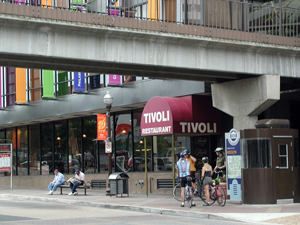 Planners Network is the organization of progressive planning.
Organization: We are a coordinated network of individual members and of chapters based in cities, regions and campuses around North America, also known as Turtle Island, and beyond. We publish the online magazine Progressive City, distribute a monthly newsletter, participate in and lead advocacy and organizing efforts, host public events, and gather for conferences.
Progressive: We are aligned with social movements that seek to transform society in order to achieve equity and liberation for all oppressed peoples. We want progress away from racial capitalism and toward egalitarian socialism; away from extractive (neo)colonialism and toward abolition and decolonization; away from environmental catastrophe and toward climate justice; away from patriarchy and toward feminist liberation; away from the status quo and toward freedom.
Planning: We are planning practitioners, activists, academics and students engaged in the process of shaping space over time. We work in planning agencies and we protest against them, as well as the exploitative systems they uphold. We study, teach, practice and fight for a form of planning that is transformative and anti-racist , geared toward the full realization of human rights, dignity and spatial justice. We seek public and social responsibility for meeting these needs, because the private market was never designed to do so.
If these principles resonate with you, join us! (And if they don't, maybe join and argue with us.)