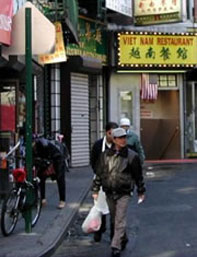 Planners Network is the organization of progressive planning. Our members are professionals, activists, academics, and students involved in physical, social, economic, and environmental planning in urban and rural areas. We serve as a voice for social, economic, and environmental justice through planning.
PN connects progressive planners in the following ways:
For three decades, Planners Network has been a voice for progressive professionals and activists concerned with urban planning and social and environmental justice. PN members have a wide range of interests – including environmental justice, community economic development, housing, and globalization. And they come from a variety of backgrounds – community organizers, social justice activists, professional planners, academics, and students. But what all PN'ers have in common is a commitment to work toward greater equity and fundamental change in how decisions are made in our global society.
For more about PN's history, click here.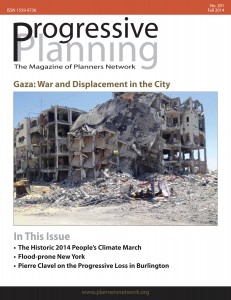 Progressive City Online Magazine 
Since 1975, PN has been publishing a newsletter for its members. In 2002, the bi-monthly newsletter grew into a 48-page quarterly magazine. Progressive Planning: The Magazine of Planners Network sought to be a means for networking among members, a source of innovative ideas, and a forum for controversial policy questions neglected in mainstream planning circles. In 2017, the magazine became Progressive City: Radical Alternatives, an online publication and podcast with the same editorial standards, but adding an opportunity for readers to interact through comments and social media. Our contributors and readers are activists, reporters, practitioners, academics, and community members.
Website 
www.plannersnetwork.org is our award-winning website. Redesigned in 2018, the website includes the Progressive Planning magazine archives, PN news, member updates, events, publications, organizations, jobs, and fellowships/grants. The website also includes contact information for local chapters and PN university representatives.
E-Newsletter 
After the magazine switched to a quarterly format, PN started publishing a monthly electronic newsletter to update members on more time-sensitive information. The newsletter compiles news and resources submitted to the website and magazine.
Facebook Pages 
PN maintains a facebook page for timely announcements. Some PN chapters have also set up their own facebook pages.
PN Conferences 
The PN conference has been held since 1994. These gatherings combine speakers and workshops with exchanges involving local communities. PN conferences engage in discussions that help inform political strategies at the local, national, and international levels. Recent conferences have been held in Minneapolis; Holyoke, MA ; Toronto ; East St. Louis ; New York City; and Pomona, CA. The 2014 conference was held in Ciudad Juarez.
PN Presence at Professional Conferences 
PN gives progressive ideas a voice in the mainstream planning profession by organizing sessions at annual conferences of the American Planning Association, the Canadian Institute of Planners, and the Association of Collegiate Schools of Planning. PN members also participate at INURA conferences.
Local Organizing 
In many cities, members have organized PN chapters and planning activist groups to network and take action at the local level. Local chapters are independent groups that promote the PN principles of social, economic, and environmental justice at the local level.
Planning Education 
PN students and professors advocate for more progressive planning education at their schools and nationwide. The PN Disorientation Guide is a new attempt to engage students in reshaping professional planning education.
Memberships
PN is also a member of the Habitat International Coalition. More information is available here.
For more information about PN, read about our Statement of Principles, What We Do, History, Who We Are, FAQ, or download the Planners Network brochure. If you have a question that isn't answered there, please contact us atinfo(at)plannersnetwork(dot)org. To become part of the network, sign up as a member.
Want to support Planners Network's efforts to create new and timely progressive planning content, get access to our e-newsletter and all the back issues of Progressive Planning (2003-2016), and get discounts on conferences and events? Become a paid member! See the Membership page for more details.